White German Cotton Tablecloths and genteel Cloth Napkins
White tablecloths and fine cloth napkins:
We are looking forward to many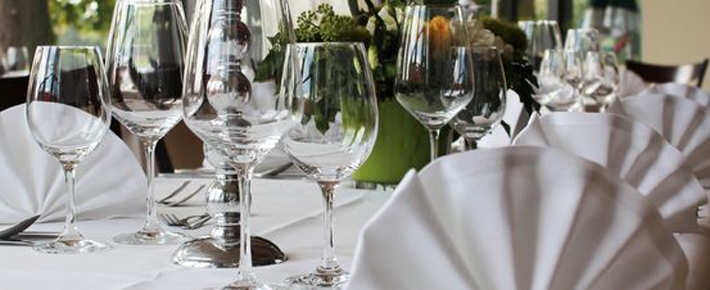 celebrations again: Birthdays, Weddings, anniversaries or the baptism of a new addition to the human race – where it gladly may be a bit chicer. With stylish decorations, noble tableware and especially a perfect laid table with a genteel tablecloth. In our assortment, you find a wide choice of white tablecloths and cloth napkins, as well as champagne-colored tablecloths. A festive atmosphere is already reflected in this colorfulness. To go beyond that, there are linen tablecloths and modern damask cotton tablecloths in many sizes to choose from, which you can buy online.
White Damask Cotton Tablecloths and matching Cotton Cloth Napkins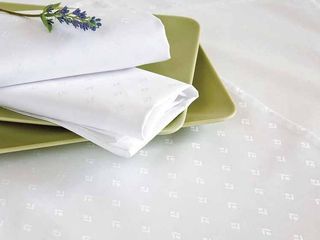 Who is searching particularly festive napery make a find in the category damask cotton tablecloths: Our pristine white damask cotton tablecloths give a festive touch and a genteel elegance to every feast. There is a wide range of damask patterns, starting with our damask tablecloth modern damask tablecloth via damask tablecloths with a classical pattern through to damask tablecloths with floral patterns from curved botanical elements including oval and round damask cotton tablecloth. Matching to the tablecloths, you find cloth napkins in different variations, quantities and qualities. Napkin rings are available separately as well. Damask napkins are also always a good idea as a present and a rim on every table. Our damask cotton napkins appear especially stylish with real napkin rings. Particularly silver napkin rings are not just an eye catcher on weddings but und every banquet table. Get in touch with us if you need special quantities or individual advice.
Large Cotton Tablecloths: white and plain
White cotton tablecloths and white cloth napkins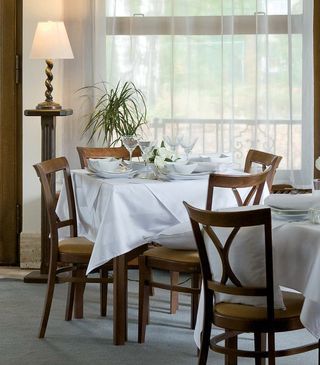 without a pattern are rated as timeless elegant. Especially long, big tablecloths show style and class. White tablecloths have the advantage that they are combinable with any kind of colorful table decoration. In our assortment, we offer a wide choice of big white tablecloths without a pattern in XXL or just in excess length as well as white cloth napkins without a pattern. In our tablecloths-shop, you can order a wide range of tablecloths sizes, as well as tablecloths in round and tablecloths in oval up to a length of 400 cm for an affordable price. Besides the big cotton tablecloths without a pattern, you find genteel qualities with an elegant satin band.
Cotton Tablecloths with a Satin Band
Our white tablecloths with a satin band or the big, white tablecloths without a pattern appear discreet and unobtrusive and still convey a festive flair. Among them, you also find tablecloths in oversize or special sizes. In our assortment, there are intentionally large white cotton tablecloths up to a length of 380 or 400 cm available. The damask tablecloths are perfect to pair with any kind of colorful decoration. Whoever wants to lay their table extra festive should choose the matching damask napkins. Our pristine white damask cotton tablecloths, like the ones you know from your grandmother´s linen closet give a celebrative touch to every celebration. All damask tablecloths impress with their appealing light reflection in the pattern. Matching to them, you find the accordingly damask napkin in various versions and quantities. Originally resident in the catering and of course in the basic inventory of a lot of restaurants, more and more private households discover these plain white tablecloths, which bring festivity and atmosphere to every table. Should there be any further questions, we are delighted to advise and help you!
Your Team from the Tablecloth-Shop Libusch
Notes on the tablecloth size
Determine the optimal size of a tablecloth by taking the measure of the table top and adding an overhang of approx. 20-30 cm per side. These dimensions for a tablecloth are to be understood as general guidelines, which of course can be varied depending on the taste, whether a longer or shorter overhang of the tablecloth is desired.


| Tablecloth from Libusch | Colours & ​Dessins & Materials | Forms & Sizes |
| --- | --- | --- |
| Tablecloths square: | white, sekt, Damast, plain with satin band, cotton, linen, polyester | 130‑cm width, 140‑cm width, 160‑cm width, 180‑cm width, Length up to 400cm |
| Tablecloths round: | white, antique white, champagne, cotton, linen | Ø 130cm, Ø 150cm, Ø 160cm, Ø 180cm, Ø 200cm, Ø 210cm, Ø 225cm, Ø 240cm, Ø 260cm, Ø 280cm, Ø 300cm |
| Tablecloths oval: | white, Damask, cotton, linen | oval 130x220, oval 140x200, oval 150x200, oval 140x240, oval 140x260, oval 160x220, oval 160x250, oval 160x280, oval 170x270, oval 180x220 |
| Runners: | white, champagne, chequered, Damask, cotton, half-linen | 40x130cm, 50x130cm, 50x160cm |
| Cloth napkins: | white, champagne, coloured, Damask, Linen, with satin band, plain without pattern, cotton, linen | 50x50cm, 40x40cm, 30x30cm, 25x25cm, 12x12cm |
| Table protectors: | Table protector, tablecloth underlay, Tablemoltons with elastic band | 100-er width, 110-er width, 130-er width, 140-er width, length up to 400cm |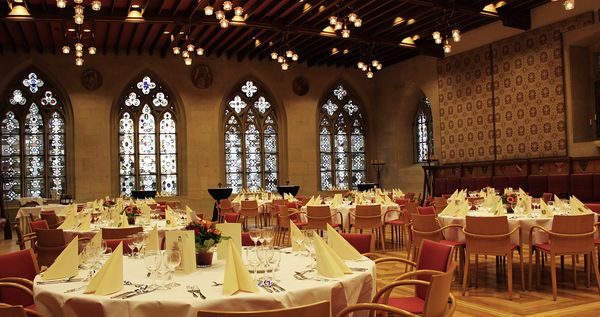 White round tablecloths from Libusch® at townhall in Münster