Tablecloths in oval - in demand like never before: oval is trendy
More and more people are dining at an oval table. This is apparently due to the cozy oval shape, which is perfect for a convivial get-together. The rounded, convex shape quickly becomes the focal point in the dining room and creates a genuine feel-good atmosphere. Especially with matching oval table linen, an oval table radiates a special festivity. Many table models can also be extended with an additional tabletop. Of course, we also have the matching tablecloths for the extendable versions. Whether large or small, angular or oval, we have a truly comprehensive range of tablecloths, especially among the oval tablecloths there are many special sizes.
Calculate oval tablecloth dimension
The oval table size of their dining room table presents many customers with special challenges. With the right table size for the oval table, the same formula applies as for all other tables: simply add 20-25cm to each side of the tabletop size, and the matching oval tablecloth size is calculated. In the case of an oval table, the widest point must of course be used for the calculation. Many of our white oval tablecloths also fall under the term "special sizes".
Oval is not just to oval
The oval tables (and the oval tablecloths) are distinguished by oval shapes that emerge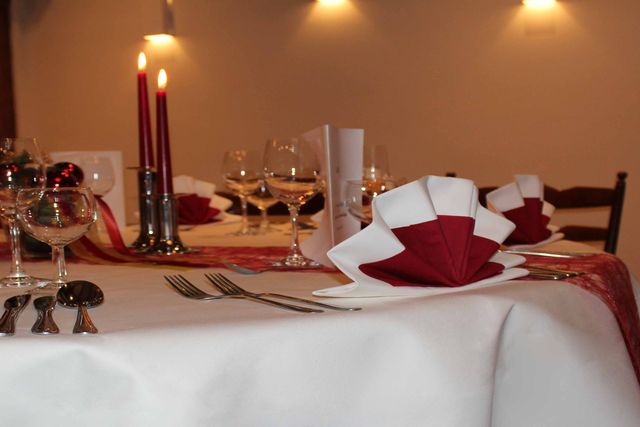 from a round table, i. e. in the extension by an inserted, central tabletop, so that in the true sense only the corner edges are oval. And secondly, there are oval tables consisting of a tabletop with a genuine convex oval shape. With these tables, the converging shape of the oval actually begins in the middle. Please note that our oval tablecloths are all made for tables that go from a round shape with an extension to an oval shape, which means that the tablecloths are only rounded at the corners. If you have any questions, please contact us.
How do I care of my oval tablecloths?
Our oval tablecloths are very easy to clean and hard-wearing because they are made of pure cotton. The fine fabric can be very hot, up to 95°C degrees in the laundry, with strong stains even a treatment of the oval tablecloths with chlorine is allowed. However, it is clear that the gentler the table linen, the longer its radiant effect remains. We recommend to mangle the tablecloths after washing. Ironing the large oval tablecloths by hand on the ironing board is very tedious and often not really satisfactory. Damask tablecloths that have been put into the ironer also have a straight "middle break": this is particularly beautiful and makes the table easier to cover.