White tablecloths without patterns have style
White tablecloths without patterns, as we offer them in the Libusch tablecloth shop, radiate elegance and style. Particularly large tables look very festive and sophisticated with white long tablecloths. In our assortment you will find almost all conceivable sizes, but we are specialized in large sizes, special sizes and oversizes as well as table decorations in XXL. For example, we also have tablecloths in white without patterns 140x360cm, 140x380cm and 140x400cm in our range. In tablecloth width 160 we can also serve with tablecloth sizes 160x350cm, 160x380cm and even 160x400cm. In this way, we offer optimally cut table linen for every table size and length.
Tablecloth quality in pure all-twisted cotton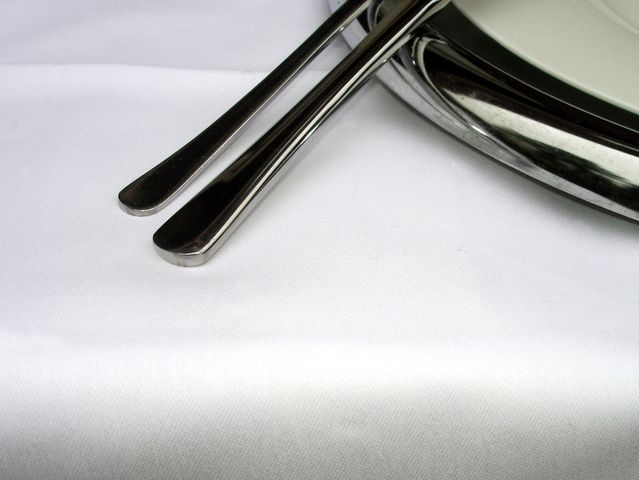 All tablecloths in white without pattern are of high quality in pure, two-ply cotton and in a firm, non-slip materiality. These white tablecloths are particularly suitable for beautiful parties and celebrations. All white tablecloths can be combined very well with any kind of colored table decoration and can be used universally. A colorful bouquet of flowers or a table ribbon matching the porcelain or an unusual table runner is particularly beautiful. If you are looking for a really simple and unobtrusive tablecloth, our patternless white tablecloths are just right for you. It does not matter whether you just want to dine at a small table for two or are planning a big wedding with many guests.
Buy white tablecloths cheap
In our assortment you can buy many white tablecloths cheaply. A great advantage of our patternless white tablecloths is that they can be washed particularly hot: resistant to boiling water up to 95°C - even heavy stains and dirt can be removed. We recommend to put the tablecloths after the washing in the ironer, then you are quickly tiptop smooth again for the next celebration. You will also have a beautiful and straight centerfold, which is convenient for orientation when arranging cutlery and glasses. Please note regarding size: All Klara tablecloths, white without pattern, are always a few centimeters larger than indicated, so the entry for cooked linen is already included in the calculation! A tip: Order matching fabric napkins without a pattern. However, if you want an extra dash of color, you can also combine colored fabric napkins with a white tablecloth.
White-Tablecloths: characteristics
characteristics
design
material:
100% cotton, mercerised, combed
pattern:
without pattern, starched white
weight:
ca. 200g/m²
combination possibilities:
white cloth napkins without pattern (appropriate)
care:
boilproof and chlorine-resistant 95°C
manufacture:
hemmed all around, otherwise cited
size:
size after washing /

shrinkage

already included
Which tablecloths in white without pattern are suitable for me?
Tablecloths white, UNI without pattern, are very modern and very popular in not only gastronomy, but also especially in private settings. The choice is large; the customer is spoilt for choice. However, which tablecloths in white without pattern are right for whom? Especially the size of patternless white tablecloths has to be calculated exactly. Take the size of your tabletop and add 20-25cm to each side. For easy calculation, you can also take a piece of fabric, e. g. a dry cloth, and place it over the edge of the table and try out, measure and calculate the desired overhang. With this trick, you have exactly visualized the desired tablecloth size. In addition, please note: the tablecloth should not hang on your lap, do not choose the overhang too generously! And keep in mind: 15-20cm overhang on each side are quite okay to combine with tablecloth.
An alternative to our white tablecloths are damask-tablecloths with attractive damask pattern.