Tablecloths: A brief history of table culture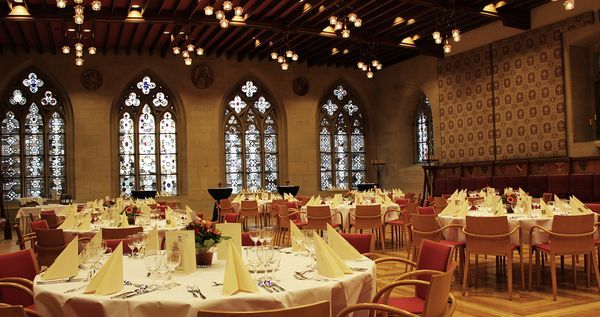 Anyone who believes that the festively laid table with an appealing, luxury tablecloth, precious tableware and an unusual table decoration has only been in trend for a few years and is, as it were, an invention of modernity has been mistaken: Western dining culture, as it is firmly anchored in our culture, has slowly developed over the millennia and has steadily matured. Drinking and eating customs, table linen as well as table manners and table orders belong to our fixed table and table culture. The following is a brief outline of the history of table culture.
Table culture in antiquity
Already in ancient Egypt at the time of the Pharaohs, opulent banquets were very popular (see Hans Tapper, Der schön gedeckte Tisch, Niedernhausen 1986, pp. 7-11). This is documented by old paintings depicting table settings and table parties. There are jugs for drinks, fruit bowls and plates with food as well as musicians who entertain the diners with their games. Similarly, but more scantily, the ancient Greeks held it. They ate their main meal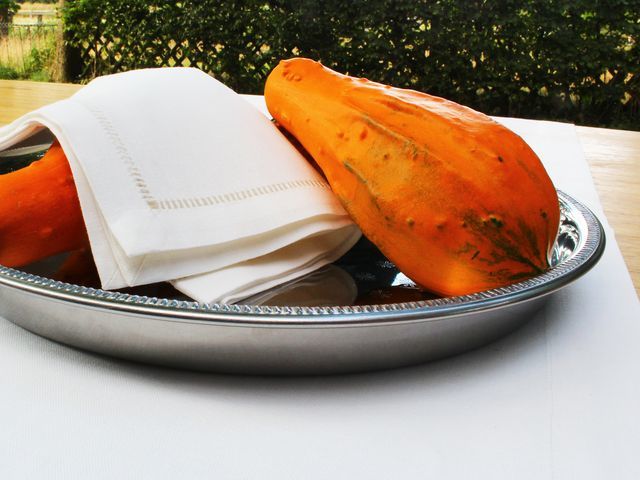 in the early evening hours. They consumed bread dipped in wine, meat dishes were served less frequently (cf. Hans Tapper, Der schön gedeckte Tisch, Niedernhausen 1986, p. 8). Cups and plates made of clay or metal were common as tableware, and spoons were used as cutlery. Eating was otherwise done with the fingers. There was no table setting in that sense. In ancient times, people increasingly ate lying down rather than at the table. Especially with the ancient Romans the custom to eat lying down was very popular. This is proven by many old miniatures from this period. The Romans also knew drinking cups, plates and simple cutlery, including knives for carving meat dishes. New, however, are finger bowls and napkins (cf. Hans Tapper, Der schön gedeckte Tisch, Niedernhausen 1986, pp. 7-11). This means that napkins were already in use as towels in outgoing antiquity. The Romans presented the food on a small table covered with a cloth in the middle (cf. Andreas Morel, Der gedeckte Tisch. Zur Geschichte der Tafelkultur, Zurich 2001, p. 25). Individual place settings were unusual, but on vessels from this period there are sometimes owner's marks.
Table culture in the Middle Ages
In the Middle Ages, table culture and customs initially became more coarse again. Although people used cups, knives and, more rarely, simple forks for eating, plates, finger bowls or even napkins and tablecloths were used less frequently, as far as it is known. People mostly ate with their fingers. In better circles only thumb, index finger and middle finger were used (see Hans Tapper, Der schön gedeckte Tisch, Niedernhausen 1986, p. 8). In the Middle Ages there were no table linen and thus no table cloths,

but in the late Middle Ages table cloths appeared on which one could wipe one's mouth and hands. These linen-fabric-made cloths attached to the table can be regarded as precursors of our today's fabric napkins or mouth napkins. Around 1200 the first book illuminations are found showing tables covered with textiles or tablecloths. In these early illuminations, a smooth cloth is usually seen as a tablecloth that covers the tabletop. A second cloth draped in rich folds is laid over the edges and usually reaches down to the floor. The guests used the wraparound cloth as a napkin for their hands and mouth and placed it over their laps to protect their clothes. In this sense, the tablecloth was initially used as a napkin.
Table culture in modern times
In the 16th and 17th centuries there were not only tablecloths on the table,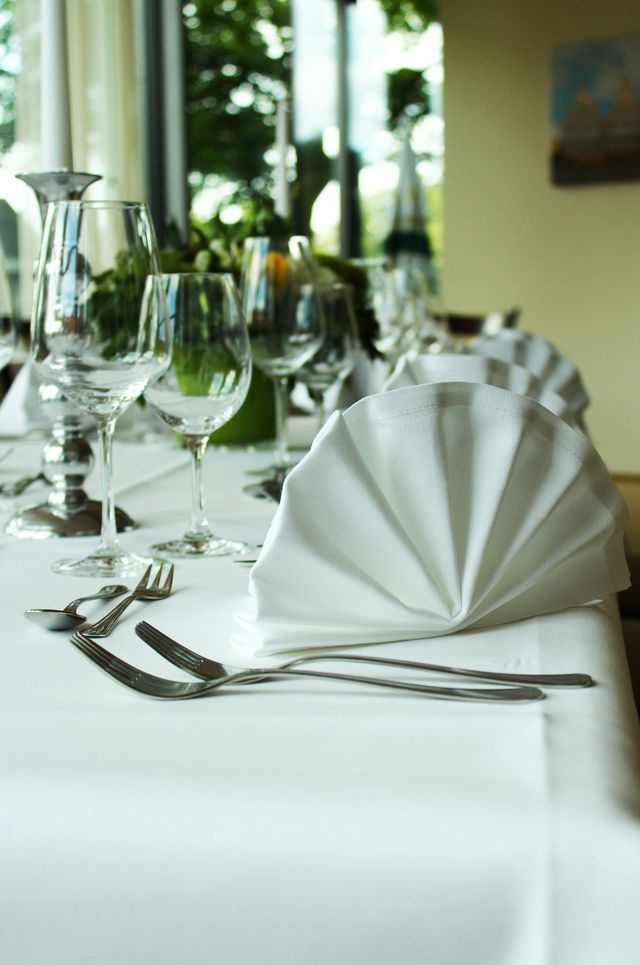 fine cloth napkins for your table and forks, with which you ate, generally common, first in Italy, later also in France and Germany. The rise of forks in the Renaissance and early modern times may be explained by the fact that wide neck ruffs were fashionable in Italy in particular, but also in the Netherlands. Numerous paintings of fine lords and diners witness to this, particularly impressive examples come from the Dutch painter Frans Hals. In order not to dirty the ruffs, forks were used for food. In France it was probably the custom to eat equally with knives and forks that first prevailed. The table manners that have developed in the course of these achievements have remained influential to this day. In the 18th century, table manners increasingly spread from courtly society to the normal population. In the 19th and 20th centuries the dining culture continued to refine. The dishes became more varied and refined, the tableware higher quality and more precious and as cutlery silverware came into fashion. At the end of the 19th century, there were already ingenious place settings as well as a complex code of conduct for formal occasions (cf. Tessa Everlegh, Der schöne Tisch, Traumhafte Dekorationen für viele Anlässe in Schritt-für-Schritt-Anleitungen, Munich 1999, p. 6). Special utensils such as fish cutlery, soup spoons and egg cups were also introduced.
You will find references in our literature list.