White tablecloths and cloth napkins
White tablecloths and cloth napkins make every celebration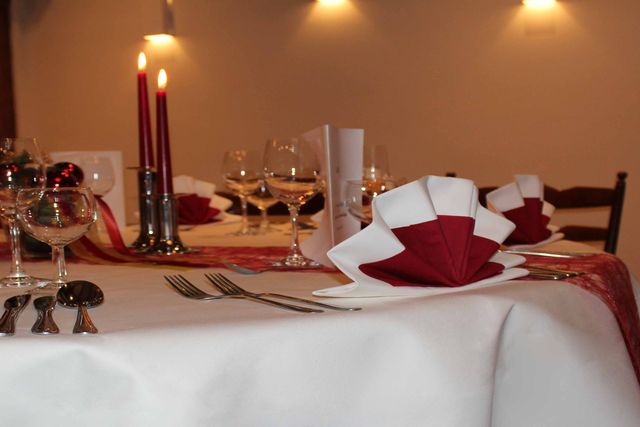 a real celebration. A tablecloth for long tables provides cosiness and atmosphere, a tablecloth is the eye-catcher in every room. For special celebrations, birthdays, a baptism or a wedding it can be a bit more chic: a real damask tablecloth looks noble and extravagant, the damask tablecloth lends style and class to every celebration. In our offer we have a wide selection of tablecloths ready for you: whether you prefer tablecloths without patterns, damask tablecloths or linen tablecloths, you will find a comprehensive assortment in our shop. We also have non-iron tablecloths and champagne tablecloths in our repertoire. A celebrative mood is already reflected in this colourfulness.
| Tablecloths | Colour | Material | Delivery/Execution/Size |
| --- | --- | --- | --- |
| Damask-tablecloths: | white, champagne | 100% cotton | 140x200, 140x230, 140x240, 140x260, 140x280, 140x300, 140x320, 140x340, 140x360, 140x380, 140x400, 160x160, 160x260, 160x310. 160x350, 160x400, 180x250, 180x310 |
| White tablecloths square/rectangular: | white | 100% cotton-twisted yarn | 140x200, 140x230, 140x240, 140x260, 140x280, 140x300, 140x320, 140x340, 140x360, 140x380, 140x400, 160x160, 160x260, 160x310. 160x350, 160x400, 180x250, 180x310 |
| Round Tablecloths: | white | 100% cotton-twisted yarn | Ø 130cm, Ø 160cm, Ø 180cm, Ø 200cm, Ø 210cm, Ø 225cm, Ø 240cm, Ø 260cm, Ø 280cm, Ø 295cm, Ø 320cm |
| Non-Iron tablecloths: | white | 100% Polyester | 130x230, 130x260, 130x280, 130x300, 130x320, 130x340, 140x230, 140x260, 140x280, 140x300, 140x320, 140x340 |
| Tablerunner: | white, champagne, chequered, Damask | 100% cotton | 40x130cm, 50x130cm, 40x170cm, 45x160cm |
| cloth napkins: | weiß, color | 100% cotton, Linen, half-linen | 50x50, 40x40, 30x30, 25x25 |
Tablecloths in white
Our tablecloths for long tables in UNI are particularly popular: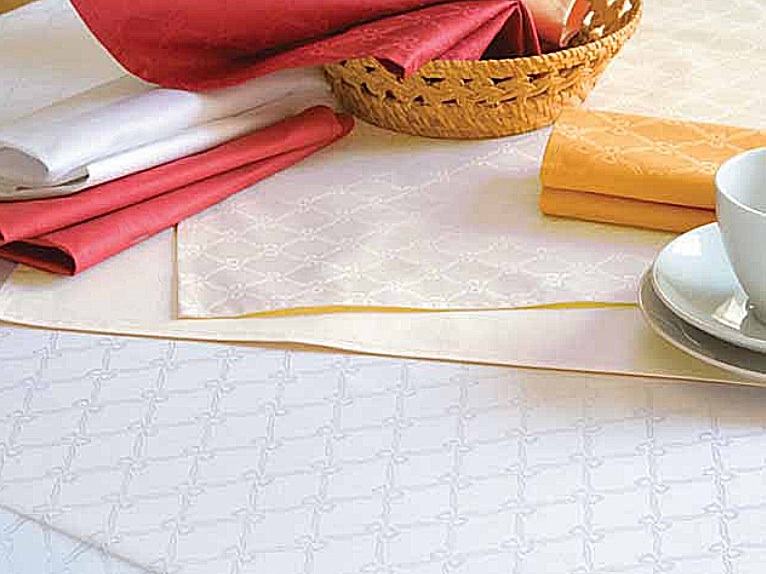 Especially the tablecloths in white without pattern are made of pure two-ply cotton and have a firm, non-slip materiality. The white tablecloths are particularly suitable for beautiful occasions and celebrations: All our white tablecloths can be combined very well with any kind of table decoration. Coloured accents on the white tablecloth look particularly beautiful like a colourful bouquet of flowers or a table ribbon matching the porcelain. If you are looking for a really simple and unobtrusive tablecloth, you should choose a patternless white tablecloth. It does not matter whether you want to dine at a small table for two or plan a large banquet with many guests. Anyone looking for particularly festive tablecloths will find what they are looking for in the Damask tablecloths category: Our blossom-white damask tablecloths give every banquet a particularly festive touch. There are numerous tablecloth patterns to choose from, ranging from modern damask tablecloths and damask tablecloths with a classic pattern to damask tablecloths with a floral pattern of curved plant elements. We also have some oval damask tablecloths and round damask tablecloths.
White table linen for every occasion
White tablecloths and white tablecloths without patterns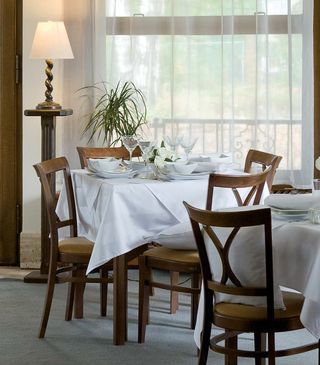 have always been considered timeless and modern: a real eye-catching cloth napkin without patterns. When manufacturing our tablecloths for long tables, we paid particular attention to being able to offer as many tablecloth sizes as possible for every requirement. Particularly long, large tablecloths in XXL, real tablecloths for opulent celebrations, testify to style and class. In our assortment we offer a wide range of large white tablecloths without patterns in XXL and also special sizes. You can buy numerous tablecloth dimensions, also tablecloths in round and tablecloths in oval, up to a length of 400cm cheaply online from us. Among the non-iron tablecloths, which are also dirt-repellent / stain-resistant, we have also included widths of 130cm and 140cm in our tablecloth selection. Under the white tablecloths with satin band, all tablecloths are boil-proof and chlorine-proof. They are made of pure two-ply cotton: the fabric of the tablecloths is particularly resistant. In this category, we also stock particularly large sizes: Both tablecloths measuring 140x310cm and 140x330cm are always in stock and are delivered at short notice. Order the matching fabric napkins with atlas edge online with us, then you have your table linen from a single cast. Should you require special quantities of tablecloths for long tables or fabric napkins, please contact us and we will be happy to make you an individual offer. Even larger quantities do not present us with problems.
White tablecloths and table spreads
Our white tablecloths are discreet and unobtrusive, but at the same time elegant and festive: all tablecloths from the tablecloth shop Libusch provide a festive flair. You will find many tablecloths and tablecloths in oversizes and special sizes. In our offer are extra large white tablecloths with a maximum length of 400cm in stock. All white tablecloths can be wonderfully combined with any type of coloured table decoration. Anyone who wants to cover their festive table with a tablecloth should not forget the napkins that match the tablecloth. Our blossom-white tablecloths, as you still know them from grandmother's linen cupboard, give every party and every celebration a particularly extravagant touch. All tablecloths captivate by their attractive light reflection and a very light shine of the fabric. Matching the tablecloths you will find in our offer the corresponding fabric napkins in different designs and quantities. Originally at home in the catering trade and in many restaurants as a matter of course in the basic inventory, more and more private households are now discovering our plain plain tablecloths, which conjure up festivity and atmosphere on every table.
A fine selection of white damask cotton table linen will be found here.
White cotton tablecloths without pattern also oversizes will befound here.